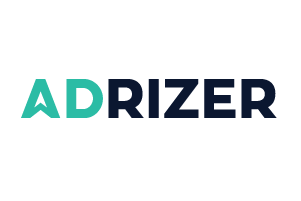 Impact
Jobs
22
633% Job Growth 2013-2017
Revenue
3898%
Revenue Growth 2013-2017
About
We developed our own software technology that allows us to track and monitor our ad spend and that of our clients to better monetize traffic. This new software has been instrumental in the steady increase of revenue over the past few years.
Pivot in strategy turns into an innovative technology platform for the digital publishing industry
Ken Bond, co-founder of AdRizer, built a platform of publishing technology tools to aid his own digital publishing efforts and soon realized the tools were the most valuable aspect of his business so he pivoted the company to focus on making those tools available to other digital publishers.
"My business partner and I started doing this on the side from my kitchen table," he said. "We were promoting our own websites using tools we built to do that and soon we realized we are not publishers. We are good at technology and our tools were great for tier 1 publishers who create tons of digital content. It was at that point we decided to put them in the hands of big nationally-known publications."
AdRizer provides an analytics platform that allows digital publishers to understand where they are profitable. The platform monitors advertising spends used to promote content and determines how much revenue is generated by that ad spend.
"We are a first mover in the space and we've been doing this for three years so there's really no direct competition right now but it is coming," Bond explained. "We stay ahead by continuing to innovate and make our tools better so when the competition comes, we are as far ahead as possible."
Bond is proud the company has been honored as a GrowFL Florida Companies to Watch, saying "it's a huge accomplishment. Starting from the kitchen table to being recognized as a growing company in Florida is a great accomplishment, and we are looking forward to continuing that growth and receiving recognition on a national level."
Bond's advice to aspiring entrepreneurs is to be ready to act as a jack of all trades.
"The challenges are very divers so you must be diverse enough to handle them all," he said. "I never thought I'd deal with hiring problems or culture obstacles or writing an employee handbook. I got into it thinking I'm an entrepreneur; I'm going to make money because I know how and let's do great things. But as the business has grown, challenges have widened in scope and there are now many more topics than when I first got into it."
AdRizer
1535 2nd Street
Sarasota, FL 34236
(844) 237.4937